プレスリリース:フェネルバフチェSK、ジェンダー平等推進にフェアプレー
Fenerbahçe Sports Club, one of the oldest and most popular sports clubs in Turkey, joined forces with the HeForShe movement to advance gender equality and women's empowerment in sport. As a result of this unique collaboration, Fenerbahçe aims to set an example globally by pioneering a number of initiatives in the sports community through the "Equal Together" movement until the end of 2019. As part of the collaboration, Fenerbahçe Football Club Soccer Team will be wearing the HeForShe logo on their right arm throughout the 2018-2019 season.
Fenerbahçe Sports Club, one of the oldest and most popular multi-sports clubs in Turkey with a large fan base of 25 million around the world, joined forces with the HeForShe. The collaboration was announced to the world with a launch on 11 November during a home game at the Fenerbahçe Şükrü Saraçoğlu Stadium.
"We see many things that are happening for the first time. For the first time in its history, Fenerbahçe wears a logo on the arm. Again, for the first time ever, we are supporting an international movement with an international agency. Our goal is to achieve gender equality transformation through sports in our country and internationally," said Ali Y. Koç, the President of Fenerbahçe Sports Club. He added, "We will start by cleaning our backyard first. Our soccer team players, technical staff, board of directors and all club members including us, will be trained about gender equality. We aim to make our sports facilities family-friendly. Making this transformation a part of our DNA is not straightforward. Once we achieve this internally, we will then spread this cause to our entire community."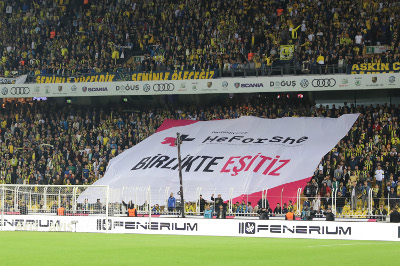 Fenerbahçe Sports Club Soccer Team came out to the pitch wearing the HeForShe logo on their right arm and carrying the "Equal Together" banner. Also, for this match alone, the numbers in the back of the jerseys were magenta, the official brand identity for the HeForShe. 
"We are excited to be partnering with Fenerbahçe Football Club in support of UN Women's work for gender equality and women's empowerment. Gender equality in sports is a hot topic, not only because of the vast pay discrepancies between female and male athletes, the under-investment in women's sports, but also because of the unfortunate reality that sports arenas have been documented to be a breeding ground for anti-social behavior. With increased gender equality in sports, we can begin to not only address these issues, but reap the full benefits of sports for all," said Elizabeth Nyamayaro, Senior Advisor to Under Secretary-General and Executive Director, UN Women, and Global Head of the HeForShe Initiative.
Before the match, a manifesto was read to the whole stadium, expressing the Fenerbahçe Soccer Club's commitment to gender equality. The stadium screens featured messages drawing attention to gender equality by Fenerbahçe players.
Koc group, one of the IMPACT 10X10X10 champions of the HeForShe, has been the main supporter of the movement in Turkey since its national launch in March 2015. One of the Koc group companies, Tüpraş, has been instrumental in supporting the Fenerbahce-HeForShe collaboration.
"Since 2015, we have been focusing on gender equality. We give our all to create awareness both at the workplace and in society with far-reaching initiatives that aim to empower women. In 2017, we signed the Women's Empowerment Principles, announcing to the whole world our goal to become an inclusive workplace. Today, by moving our goal to the field of soccer, we believe we will create a wider awareness for equality in society along with the millions of Fenerbahçe supporters," said İbrahim Yelmenoğlu, General Manager of Tüpraş.
Fenerbahçe Sports Club aims to mobilize the public on gender equality as part of the collaboration. Fenerbahçe plans to start number initiatives to raise the issue in the sports community's agenda, setting an example to national and global sports clubs with its equality messages as an inclusive sports club, women and children friendly stadium practices, and its zero-tolerance approach to all sorts of discrimination against women and girls. By establishing partnerships for gender equality, Fenerbahçe will invite other sports blubs in Turkey to support the HeForShe movement.