HeForShe Alliance Impact Report 2023 Launch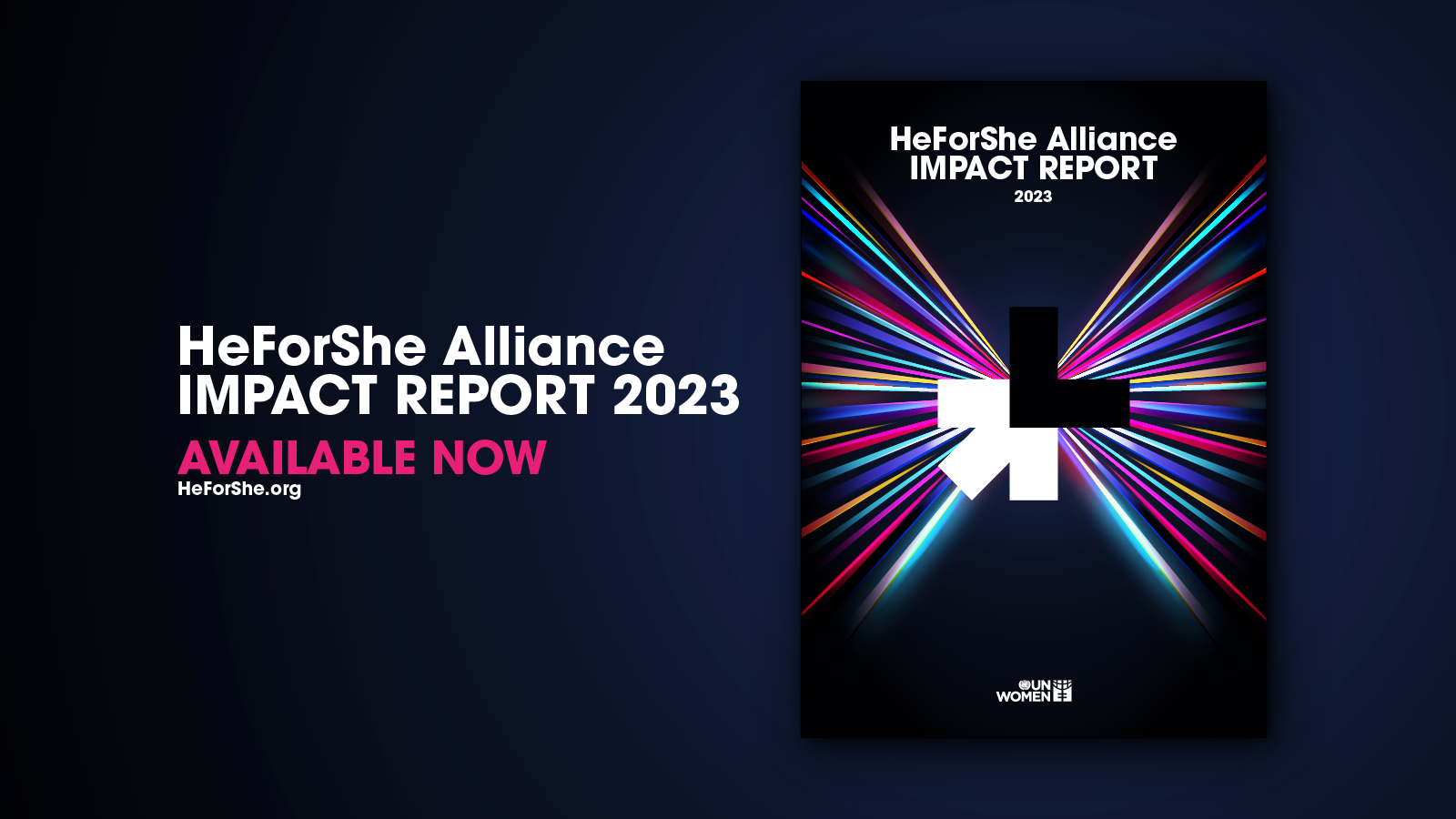 "The HeForShe Alliance Impact Report 2023 is an inspiring demonstration of leadership by example. It shows the true meaning of being respectfully disruptive in pursuit of gender equality. HeForShe Champions are breaking down the barriers that stand in the way of the promise of the Sustainable Development Goals.  The formidable energies of the HeForShe movement are driving change and can only grow stronger as the need to accelerate progress toward gender equality becomes ever more apparent and urgent."
- Ms. Sima Bahous, UN Women Executive Director
UN Women HeForShe Initiative is presenting the 2023 HeForShe Alliance Impact Report.  
The 2023 Alliance Report illustrates the positive impact generated for women and girls by the HeForShe Champions through the commitments they have made to advance gender equality. Under the umbrella of the Women's Empowerment Principles (WEPs), each Champion has provided an impact story including data on the representation of women in their organizations. 
The Alliance results and achievements are critical change-makers and push back on the organized pushback on women's rights.  The anti-rights and anti-gender movements are gaining momentum, with their efforts becoming more organized and well-funded. This pushback is increasingly noticeable, and bias is worsening, particularly among younger men. To confront this pressing issue, UN Women and its partners in the HeForShe Alliance are leading by example in making gender equality a reality. This year's report showcases the successes of HeForShe Champions, committed individuals drawn from various sectors including government, business, non-profit organizations, and academia. 
HeForShe Alliance corporate Champions have collectively increased women's participation on Executive Boards to at least 40%, while also boosting overall female hiring. To highlight a few achievements in the report, HSBC USA recently disclosed gender and ethnicity pay gap data to guide diversity efforts. The ICRC achieved gender parity at HQ, with women holding 51% of managerial roles. Vodafone and INSEAD Boards achieved gender parity, while PwC's Board increased female representation by 18% from 2021. 
 The report highlights the need for men to actively commit to change in the institutions they lead and the positive impact they have when they do so.  
"In our second report as a unified HeForShe Alliance, we hold ourselves accountable to the bold and transformative commitments we individually laid out to realize our shared goal of an equal future. We reflect on our progress and highlight the impactful work of the people we work in partnership with to effect change."
- HeForShe Champions joint statement
In 2021, 17 Champions formed the HeForShe Alliance, with specific commitments to bring gender equality closer to reality across their own institutions and respectfully disrupt patriarchal structures and transform social norms that perpetuate gender bias. This year, the HeForShe Alliance showcased their advancements in pioneering solutions aimed at achieving gender equality in the 2023 HeForShe Alliance Impact Report. 
These Alliance members have committed to monitoring their progress on over 25 commitments. The commitments include increasing the representation of women in leadership within Alliance member organizations and increasing women's representation in technical roles, MBA programs, policing, and sporting roles. Additionally, Alliance members have committed to achieving gender balance for inclusive management teams. So far, HeForShe Alliance corporate Champions have increased the participation of women on their Executive Boards to a minimum 40 per cent, along with an overall increase in the number of new women hired.