Joannes Paulus Yimbesalu describes his trip to three primary schools as the highlight of his year.
In December of 2014, the 27-year-old Cameroonian was visiting school projects that his NGO, HOPE for Children Cameroon, was involved with. A deep believer in HeForShe, he decided to integrate gender-equality messages into his talks and inspire the children's male relatives to make public promises to respect their wives.
Joannes learned about the HeForShe campaign through a youth network he belongs to, and personally attended the campaign launch in New York in September, 2014, while he was pursuing graduate studies in public health in the US. 
At the three schools in rural communities in northwest Cameroon, Joannes spoke to the children, their parents and their grandparents, as well as local government authorities. Deeply aware that in these communities the rights of women and girls are still neglected and some women are poorly treated, Joannes made a point to address the fathers and grandfathers. He listed the many socio-cultural challenges that women and girls face in their part of the world, from child marriage and teen pregnancy to violence against women. The men nodded and admitted that they have witnessed all these. Joannes then pointed out the role that men and boys can play in promoting gender equality. He explained the many benefits of sending girls to school, as many local men care only about the bride price.
---
He listed the many challenges that women and girls face from child marriage and teen pregnancy to violence. The men admitted that they have witnessed all of these.
---
Convinced and inspired, the men agreed to make public promises right then and there to respect their wives and give them the rights they deserve. The traditional heads in all three communities, including Mbororo, an indigenous community, also made commitments to spread the word.
This was a special moment for everyone present. Joannes explains: "It's a cultural norm for most women in my community to be quiet or to segregate themselves at one corner when their men are present in any gathering. Just being a man deserves that respect. It was interesting to see how excited the women were to see their men make that public promise to respect them. They regained a sense of identity. For the children, it was even more important because they are still innocent and tender. Now they have a reason to stand up for themselves and their mothers in case their fathers do something contrary to their public promises."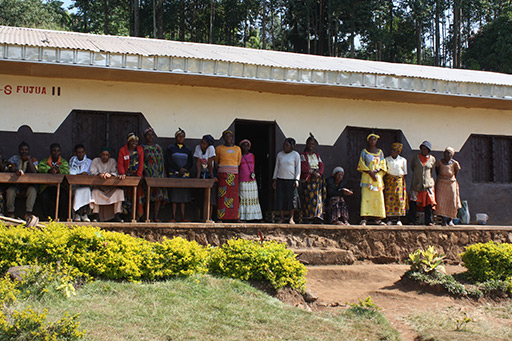 After the speeches and commitments, the women in attendance danced to traditional songs to show their appreciation. Everyone left with a renewed confidence in his or her strength.
Joannes passionately sums up his hope for a better future: "I wish that with this renaissance of gender equality, more men and boys will stand up for their wives, daughters and nieces and protect their rights while making our world a better place."