Fourth Annual HeForShe Gender Equality in UK Policing Report 2022 is Launched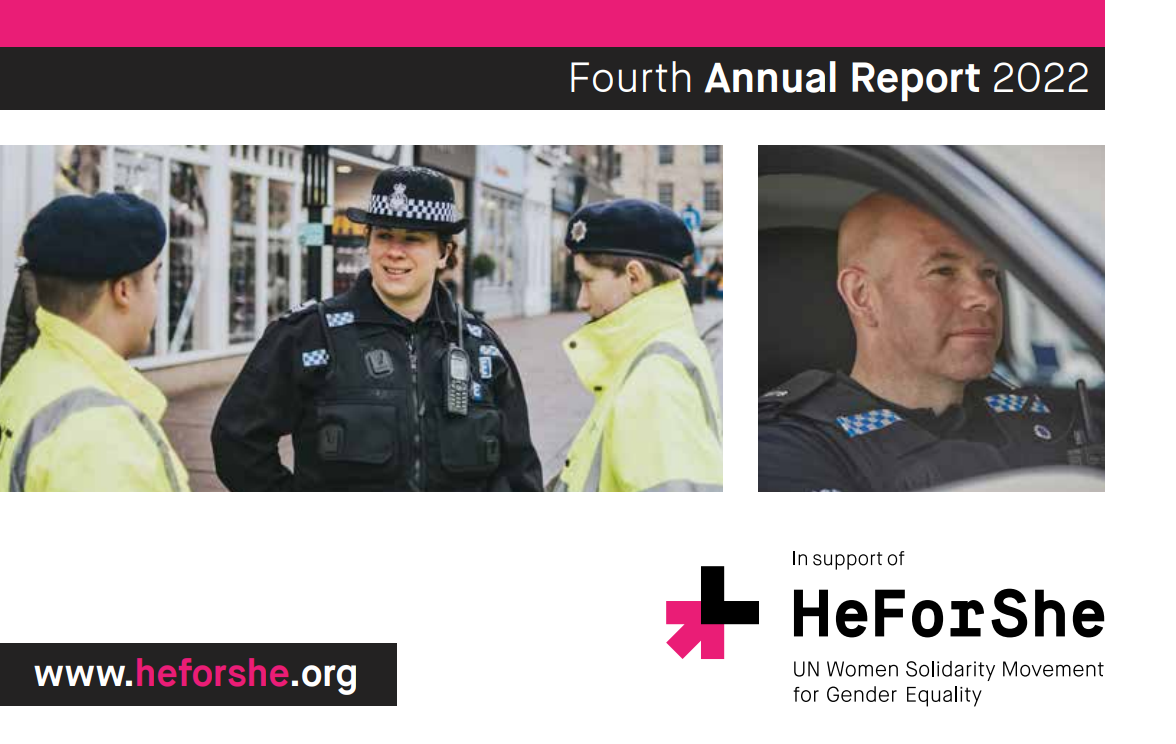 A report highlighting the progress all UK police forces are making towards gender equality has been launched. The fourth annual Gender Equality in UK Policing Report published on Wednesday, November 30th comes in support of the United Nations' gender equality campaign, HeForShe.
Every police force in the UK has signed up to the initiative, with a pledge to improve gender imbalances that exist at senior levels within policing and to continue to combat domestic and sexual abuse in society.
This year's report focusses on three new commitments agreed with the UN earlier this year, including:
To address the gender imbalances in middle management teams, in particular the ranks of Sergeant and Inspector.
Address and remove sexism and misogyny, where it exists, in police culture
Support the annual reporting of gender equality information
The data in this year's report highlights that despite all forces still having an overrepresentation of men at Sergeant and Inspector rank, it also shows that, through Operation Uplift, almost every force has seen an increase in the number of women officers. It also highlights several ways forces are progressing work in addressing and removing sexism and misogyny, where it exists, in police culture through workshops, listening circles and comms campaigns.
Speaking ahead of his retirement in October, former Chief Constable of North Wales Police Carl Foulkes, and former UK policing lead for HeForShe said:
"It has been an honour to represent UK policing on the global stage of the HeForShe movement and to see the hard work that forces are undertaking to meet their commitments towards gender equality."
"A highlight was the event held in July 2022 in London, where we launched the three new HeForShe commitments and showcased a range of best practice from across UK policing.
"This year's annual report goes further than this and for the first time since 2019, we have examples from every force as to the activity they are undertaking to achieve gender equality."
He added:
"This year also saw the introduction of the HeForShe Alliance, the second phase of the UN's global movement for gender equality. UK policing forms part of the HeForShe Alliance, along with global CEO's and leaders from non-profit organisations and academia."
"The focus of HeForShe for the next five years is now on action and is moving away from commitment. It is pertinent that we do not lose momentum and join with the United Nations on their second phase."
"Although I will no longer be the UK policing lead for HeForShe, I look forward to continuing to see the progress being made.
"I am pleased to hand over to Chief Constable Jeremy Vaughan from South Wales Police. He is a passionate supporter for gender equality, and I know the HeForShe movement within policing will go from strength to strength under his lead."
Download the HeForShe Gender Equality in UK Policing Report 2022 here.