HeForShe Champion INSEAD Commits to Gender Equality Through its Gender Initiative and the Work of Male Allies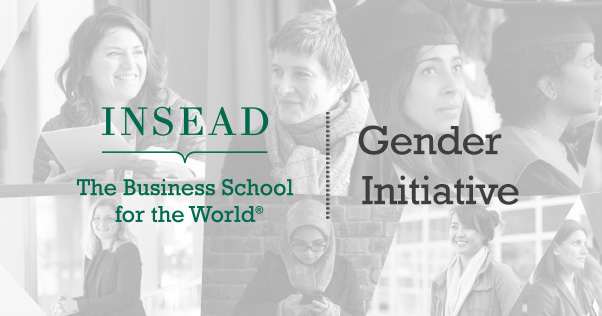 In 2021, INSEAD became the first business school to join UN Women's HeForShe Alliance. Built on its core value of diversity, INSEAD's Gender Initiative is on a mission to advance gender balance in society. It integrates research, business, and teaching to engage the full potential of both women and men. It inspires all to take action to empower women leaders to positively influence business and society.
INSEAD's HeForShe commitment involves an organization-wide movement where senior-level male allies work in consultation with INSEAD's Gender Initiative and women leaders to increase outreach to women MBA prospects and attract and retain increasingly gender-balanced faculty.
A recent example of work by the Gender Initiative is the "Gender and the Future of Work" research conceived in partnership with the Cartier Women's Initiative and unveiled at the ChangeNOW Conference in Paris in May 2022. The research aimed at understanding women's professional experiences relative to men, exploring gender-related and cultural differences, and the impact of the Covid-19 pandemic on gender balance.
The impactful work carried out by the Initiative would not be possible without its allies, both women and men. Being a not-for-profit institution, INSEAD relies on the generous support of its global community – both financially and in terms of the time of its volunteers – to make the real-world impact of its academic centers and initiatives possible. One such example is the support that male ally and INSEAD alumnus Dirk Luyten MBA'89 generously provides to the INSEAD Gender Initiative.
At the ChangeNOW conference in May, Luyten took part in a panel discussion with Professor Zoe Kinias, founding Academic Director of the INSEAD Gender Initiative, Dr. Vinika Rao, Executive Director of the INSEAD Gender Initiative, Lucy Quist MBA'05J, INSEAD Board Member and Managing Director at Morgan Stanley, and Wingee Sampaio, Global Program Director of the Cartier Women's Initiative.
"Any change requires higher levels of awareness of the problem and a better understanding of the interventions that allow the gender movement to move forward," he says. "Although the relationship between gender balance in management and performance has been understudied, the INSEAD Gender Initiative produces scientific research and disseminates it in a very systematic way, thereby allowing management to realize gender diversity in their organizations." - Dirk Luyten
During the session Luyten highlighted three actionable points that everyone can take back to their workplaces:
Actively work to learn about your unconscious bias.
Embed Diversity, Equity and Inclusion (DEI) into Key Performance Indicators because there needs to be measurement to ensure accountability.
Work with both a bottom-up and top-down approach to DEI.