From where I stand: "Once we empower women, we empower everyone."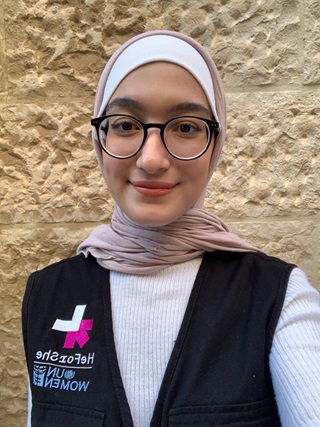 Jana Qudah, 17 years old, leads the communication team at the Jubilee School HeForShe club, the first of its kind in Jordan to engage adolescents on gender equality and women's empowerment. From equal representation to leadership, Jana is designing creative content to drive the social media conversation on everyday issues facing young men and women.
"Throughout my life, I have been creative in expressing myself. Women's empowerment and gender equality is a cause I'm passionate about, and I wanted to find ways to drive the conversation on these issues using creative means. I witness daily examples of discrimination and harassment around me. If the discussion on women's rights was more prominent, I believe people wouldn't have to face these challenges.
I had the opportunity to join the core team of the HeForShe club at the Jubilee School where I'm studying. This was the first of its kind in Jordan; no one has ever done it before. My role is to produce all types of creative and advocacy content for our social media platforms. As teenagers, we rely a lot on our smartphones, using social media as the main tool to access news and information. So, we thought it was the perfect way to spread our message. We started by launching a dedicated Instagram page, where we talk about our experiences, and we try to address gender stereotypes and discriminative behaviors.
I manage a small team of three students; the goal is to produce visual, fun and engaging content on gender equality. Our work starts by doing research. We look at our lives, and that of others around us, to find common issues that stand out. Coming from a STEM school, we like to apply logical thinking and include data as much as we can. Then we consider the most suitable and gender-sensitive language to convey the message; we want to use a terminology that young people understand and use regularly.
We always refer to reliable sources and we consider all opinions, trying to be neutral and inclusive. This is helping us to progressively address more sensitive topics. We also encounter issues that tie into bigger issues, learning something new. For instance, I was interested in the phenomenon of the "glass ceiling", a practice that prevents women, minorities, and people with disabilities from reaching high-level positions. This is something that I observe in the society as there are not many women in decision-making positions, especially in the private sector. We need to raise more awareness about it.
Through this experience, I had a lot of interesting discussions with other people, and it helped me to better consider others' perspectives. Our Instagram page is also becoming increasingly popular! We have more than 500 followers among students in our school. At our HeForShe club, we love hosting events and campaigns to get more people involved, especially boys. We recently released a podcast to talk about men and their challenges. It is important for them to know that their struggles are our issues too and vice versa.
Our next projects? We are launching a campaign on women's representation in the media and movie industry. Too often women don't get the same recognition as the main male characters. We will discuss both good and bad examples. Other schools in Jordan are approaching us to replicate this experience. 10th graders will also join the club this year, becoming the leaders of the new HeForShe team. My main message to them is: focus on your everyday interactions, if you see something wrong, call it out! Once we empower women, we empower everyone. Everyone benefits, not just women.