UN WOMEN ANNOUNCES DP WORLD GROUP CHAIRMAN AND CEO AS THE MIDDLE EAST'S FIRST HeForShe CHAMPION FOR GENDER EQUALITY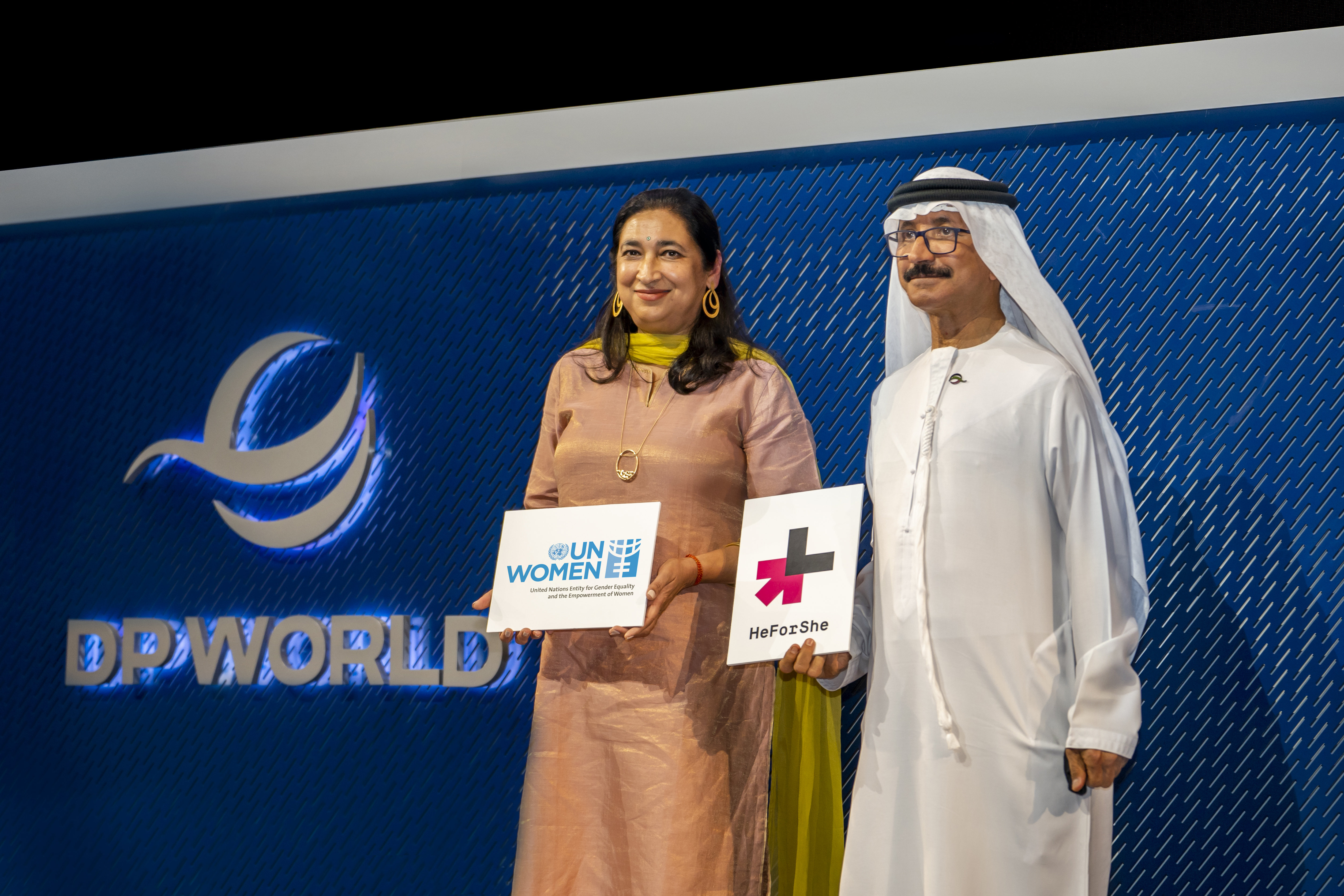 (Dubai, 8 March 2022) UN Women announced DP World today as the newest HeForShe Alliance member during a high-profile event at Expo 2020 Dubai.
DP World is the first company from the UAE to join this solidarity movement for gender equality, which brings together ambitious leaders from across government, the corporate world and third sector to transform patriarchal masculinities and develop the largest set of scalable solutions for gender equality's most pressing challenges. As the leading provider of smart logistics solutions, DP World is uniquely set up to advance the ambitious goal of gender representation and equality in the global supply chain.  
"We are honored to welcome Sultan Ahmed Bin Sulayem, Group Chairman and CEO of DP World to the HeForShe Alliance," said UN Women Deputy Executive Director for UN Coordination, Partnerships, Resources and Sustainability, and Assistant Secretary-General of the United Nations, Ms. Anita Bhatia. "The commitment to improve representation of women in this sector will go a long way in reshaping corporate and social norms in a region that holds great opportunity for progress on gender equality. DP World's commitment paired with their global reach will spearhead transformative change and allyship to achieve a gender equal world."
In today's world where we see more than 90% of Fortune 500 CEOs are male, there are obvious gains to be made involving more women in leadership positions. While DP World is on a mission to reimagine the global supply chain, ensuring equal representation in leadership in a sector so critical to the future of the world climate and economy is essential. During the month of March as International Women's Day is celebrated, UN Women is focused on gender equality today for a sustainable tomorrow. Involving women in decision-making roles will further the objective of a sustainable future. DP World's commitment to more women in leadership positions in the logistics sector is a constructive step toward realizing this future.
Sultan Ahmed Bin Sulayem, Group Chairman and CEO, DP World, said, "Becoming a UN Women HeForShe Champion is a great honor, and I feel very humbled to be working alongside such esteemed leaders to accelerate progress toward gender equality. I believe in not just attracting, developing, and retaining female talent in the trade and logistics industry, but truly focusing on efforts to build a global ecosystem that is equitable and fair for all.
Through DP World's sustainability strategy, 'Our World, Our Future', we apply a gender lens in everything we do to ensure gender equality is integrated into all our processes, regions and across departments. I am personally committed to making a positive impact that increases female representation, eliminates skills shortages and advocates for the diversity agenda."
HeForShe convenes trailblazers in a broad set of fields, with tangible commitments focused on transformative change across countries, companies, and communities. These role models join forces and through HeForShe Alliance develop the scalable and shareable solutions for gender equality's most pressing challenges. DP World is the latest organization to join this ambitious group, to inspire others to follow and demonstrate the value of allyship in accelerating progress in achieving gender equality.
About UN Women
UN Women is the UN organization dedicated to gender equality and the empowerment of women. A global champion for women and girls, UN Women was established to accelerate progress on meeting their needs worldwide. For more information, visit www.unwomen.org. UN Women, 220 East 42nd Street, New York, NY 10017, New York. Tel: +1 646 781-4400. Fax: +1 646 781-4496. For more information, visit www.unwomen.org. Find UN Women's International Women's Day In Focus-package here: https://www.unwomen.org/en/news-stories/in-focus/2022/03/in-focus-international-womens-day
About HeForShe:
Created by UN Women, the United Nations entity for gender equality and the empowerment of women, HeForShe is a solidarity movement for gender equality that invites men and boys as allies for a more equal world. For more information and learn how you can support visit http://www.HeForShe.org/en.
About DP World
We are the leading provider of worldwide smart end-to-end supply chain logistics, enabling the flow of trade across the globe. Our comprehensive range of products and services covers every link of the integrated supply chain – from maritime and inland terminals to marine services and industrial parks as well as technology-driven customer solutions.  
We deliver these services through an interconnected global network of 190 business units in 69 countries across six continents, with a significant presence both in high-growth and mature markets. Wherever we operate, we integrate sustainability and responsible corporate citizenship into our activities, striving for a positive contribution to the economies and communities where we live and work. 
 Our dedicated, diverse and professional team of more than 71,255 employees from 150 nationalities are committed to delivering unrivalled value to our customers and partners. We do this by focusing on mutually beneficial relationships – with governments, shippers, traders, and other stakeholders along the global supply chain – relationships built on a foundation of mutual trust and enduring partnership. 
We think ahead, anticipate change and deploy industry-leading digital technology to further broaden our vision to disrupt world trade and create the smartest, most efficient and innovative solutions, while ensuring a positive and sustainable impact on economies, societies and our planet. 
Media Contact: Erica Sayers
Email: erica(dot)sayers(at)unwomen(dot)org