UN Women Eastern and Southern Africa Regional Director Meets the #HeForShe Diplomats and Business Leaders in Zimbabwe.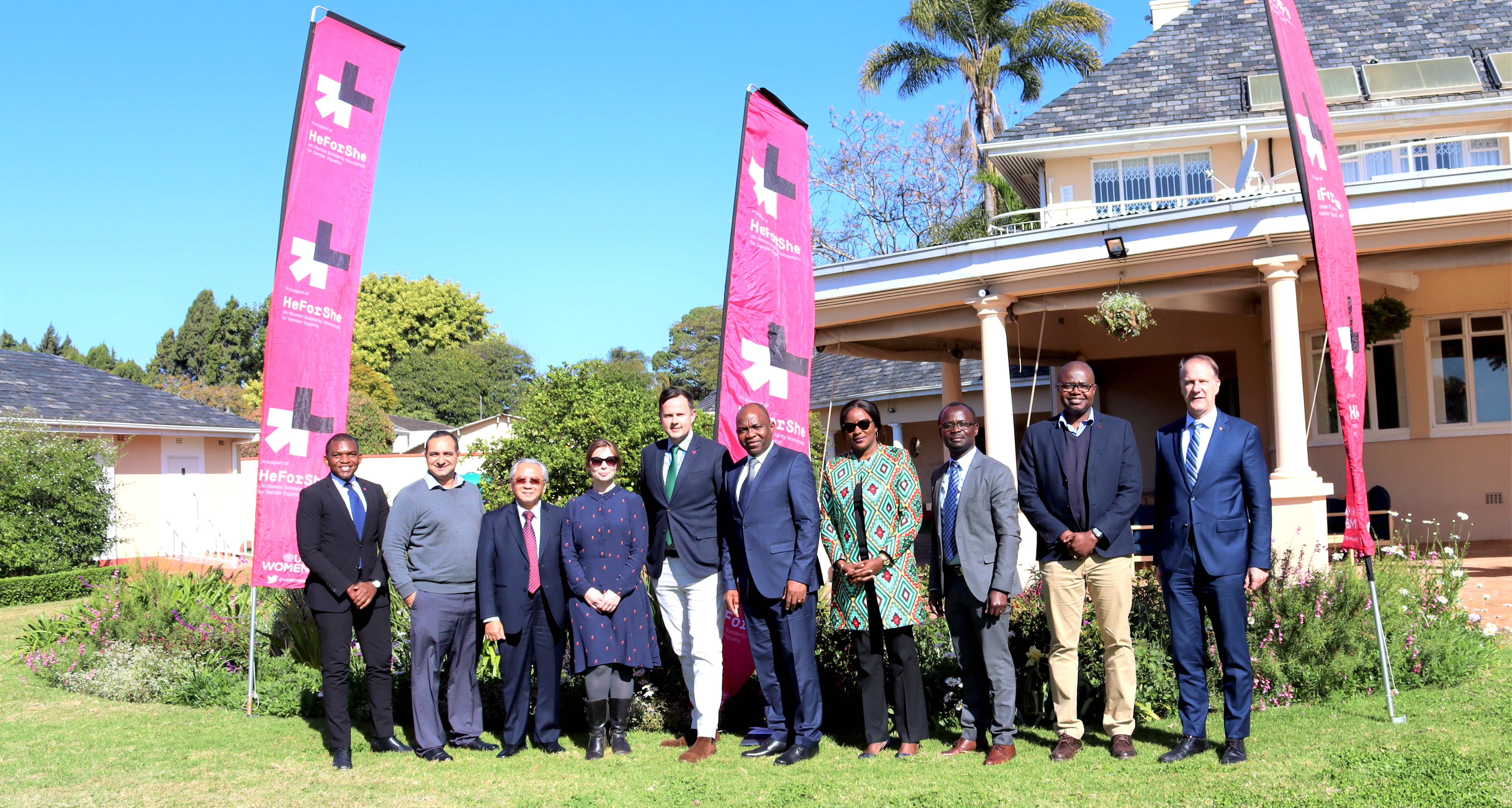 UN Women Regional Director for Eastern and Southern Africa Region, Dr Maxime Houinato met with the Zimbabwe #HeForShe diplomats and business leaders to cross-share ideas, experiences and guidance over a lunch and learning session at the British Ambassador's residence in Harare on the 7th of July 2022.
The lunch and learning session was hosted by UN Women in Zimbabwe in collaboration with the British Embassy in Zimbabwe. It was attended by eleven #HeForShe allies from various sectors including UN Women Zimbabwe Country Representative- Ms Fatou Lo, Deputy Head of Mission for the British Embassy Mr. Giles Enticknap, Political Consular of Canadian Embassy- Mr. Louis-Philippe Sylvester, the Deputy Head of Mission for the Indonesian Embassy- Mr. Nanang Eko Kartika Permana Putra, the Deputy Head of Mission for Swedish Embassy- Mr. Berthollet Kaboru, the Vice President of the Confederation of Zimbabwe Industries- Mr. Mucha Mkanganwi (business leader) and the Managing Director of Tiger Wheel and Tyre- Mr Rishi Magecha (business leader).
The lunch and learning session was building on UN Women Zimbabwe's Annual #HeForShe Impact Summit held in March 2022. It presented an opportunity for the #HeForShe allies in Zimbabwe to receive guidance and recommendations from  Dr Maxime Houinato on how best to advance gender equality and women's empowerment in their spaces.
Here are some of the recommendations that emerged from the session:
There is a need for missions and business entities to promote gender-sensitivity in procurement, supply chains, distribution channels and recruitments while enhancing the capacity and capabilities of women in these processes.
It is important for men to promote positive masculinity and reinforce the self-esteem, dignity and worth of women in their communities including daughters, wives and workmates.
UN Women in Zimbabwe and its stakeholders should thrive to address the knowledge gaps faced by the private sector on why and how to implement frameworks for gender equality and women's empowerment.
In addition, UN Women in Zimbabwe and its stakeholders should consider creating #HeForShe Clubs in schools in order to reinforce positive masculinity among boys. The agency is also urged to replicate successful models for promotion of positive masculinities for example the Men at Work initiative implemented in Nigeria.
The #HeForShe activities of diplomats and business leaders in Zimbabwe continue to facilitate and inspire the participation of men and boys in community initiatives that seek to address inequalities affecting women and girls. The movement is being replicated by youth, Innovators Against Gender Based Violence and Civil Society Organisations at community level in five provinces of Zimbabwe through the European Union-funded Spotlight Initiative aiming at ending all forms of violence against women and girls.