Zimbabwe's #HeForShe Campaign Group is Placing Gender Equality at the Heart of Development Cooperation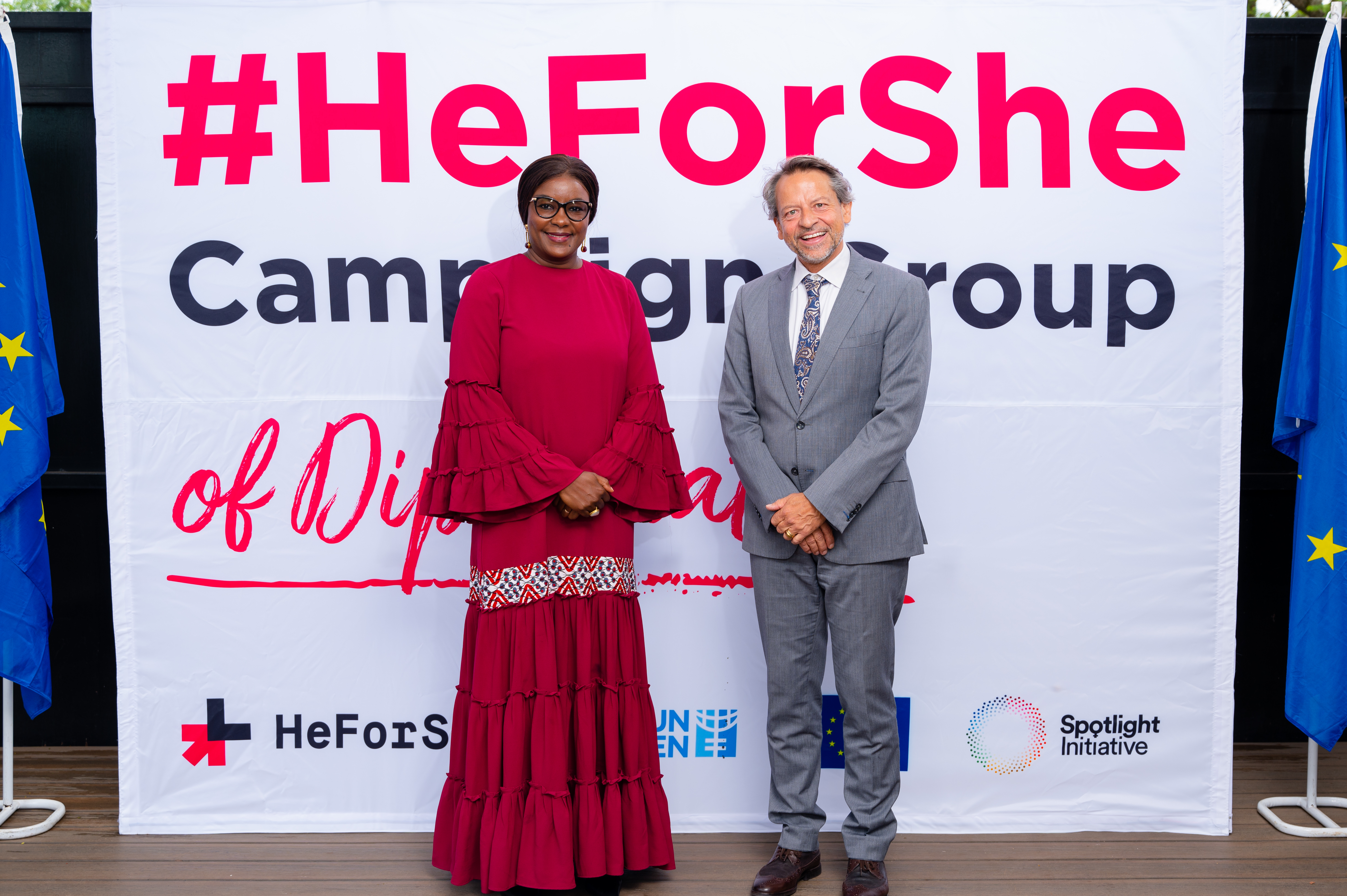 Co-Chairs of the #HeForShe Campaign Group of Diplomats in Zimbabwe: the UN Women Zimbabwe Country Representative-Ms. Fatou Lo and the EU Ambassador Jobst von Kirchmann at the #HeForShe dialogue in Harare, Zimbabwe: 
Photo: European Union in Zimbabwe
Members of the #HeForShe Campaign Group of Diplomats in Zimbabwe officially welcomed the European Union Ambassador Jobst von Kirchmann as the incoming Co-Chairperson of the group on the 7th of December 2022 in Harare as part of the 16 Days of Activism against Gender-Based Violence. The event, co-hosted by UN Women Zimbabwe and the European Union Delegation with support from the Spotlight Zimbabwe technical Team, created an opportunity for delegates to discuss Sexual Harassment and Exploitation in the workplace. 

A total of ninety delegates participated in the event, including Heads of Missions, the UN Resident and Humanitarian Coordinator, Heads of UN Agencies, business leaders, Civil Society Organisations, the Confederation of Zimbabwe Industries, artists, Youth Innovators Against Gender-Based Violence, and members of the media. The UN Women Zimbabwe Country Representative, Ms. Fatou Lo, and the EU Ambassador, Jobst von Kirchmann, took time to appreciate the leadership and contributions of the British Embassy as the Outgoing Co-Chairing Mission for the #HeForShe Campaign Group. Among other achievements, the British Embassy advocated for the participation of business leaders in the #HeForShe Movement, working closely with the Confederation of Zimbabwe Industries (CZI) and UN Women. The British Embassy also inspired the campaign group of diplomats to jointly advocate for eliminating sexual harassment and exploitation in the workplace.

At the event, the EU ambassador revealed that they have placed gender equality at the centre of development cooperation, which is aptly reflected in the Multi-annual Indicative Programme for Zimbabwe 2021-2027. In addition, the EU has set itself an ambitious target of ensuring that at least 85% of all its new programmes will have gender equality and women and girls' empowerment as a principal or a significant objective. Working collectively as 'Team Europe', the EU and its Member States, together with Switzerland, are making over €200M available for 2021-2027 towards gender equality and women's empowerment in Zimbabwe. In addition, the EU fully financed the Spotlight Initiative, a joint EU-UN partnership, to eliminate violence against women and girls to the tune of USD 30M from 2019-2023.   The EU will also continue to build on the gains of the Spotlight Initiative by supporting the Government of Zimbabwe and other stakeholders to implement the High-Level Political Compact, signed at the highest level of the State, for enhanced GBV prevention and response.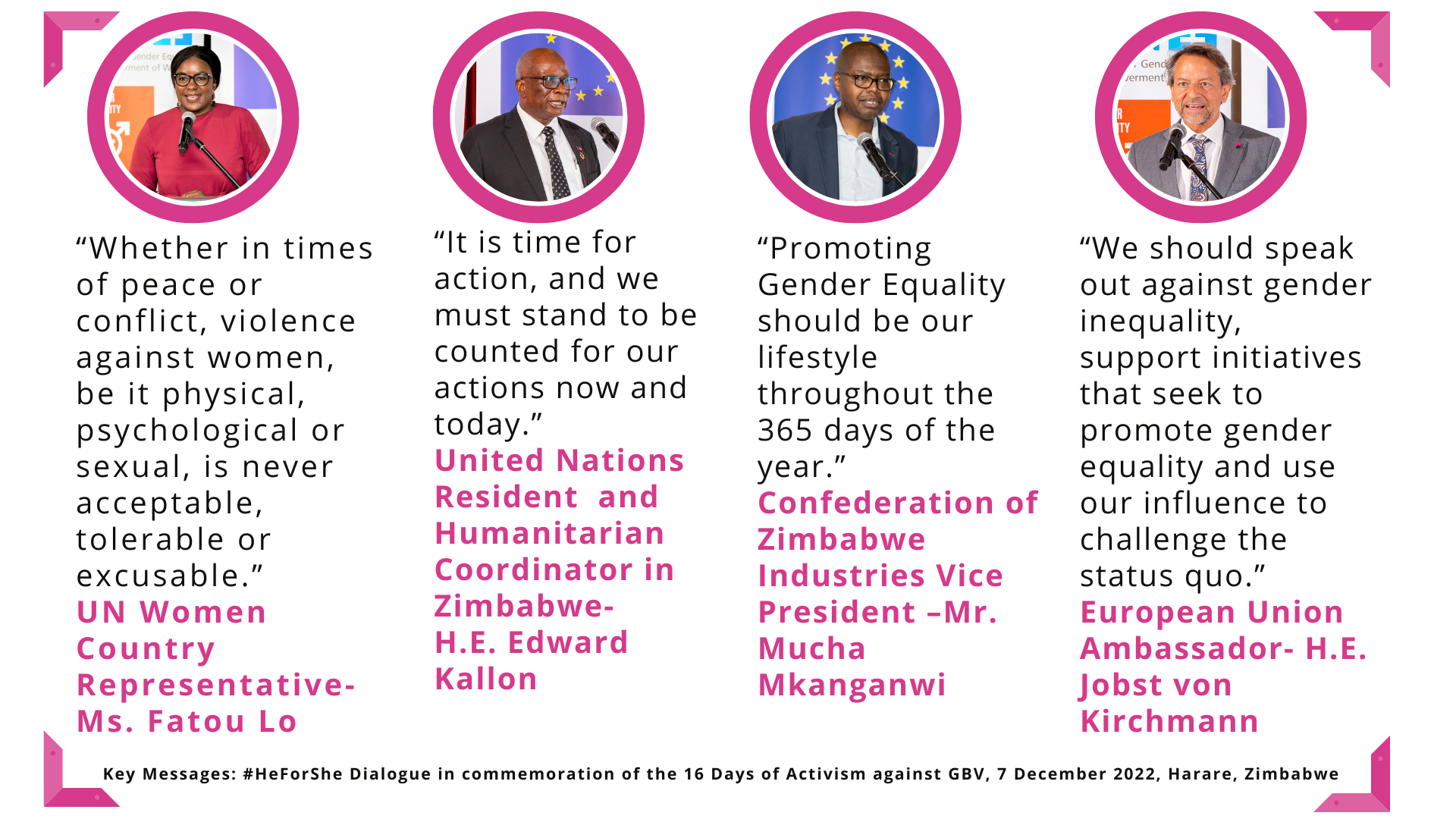 The #HeForShe Campaign Group was launched in 2018 by UN Women in Zimbabwe as part of the #HeForShe Movement. It is a network of diplomats who come together to cross-share experiences and ideas on gender equality and male engagement, promote peer-to-peer accountability and jointly advocate for gender equality and women's empowerment while fulfilling their commitments at a professional and personal level. Currently, the campaign group has 15 Heads of Missions and 6 Heads of UN Agencies.