HeForShe Kicks of 16 Days of Activism By Highlighting Male Allyship and Bystander Intervention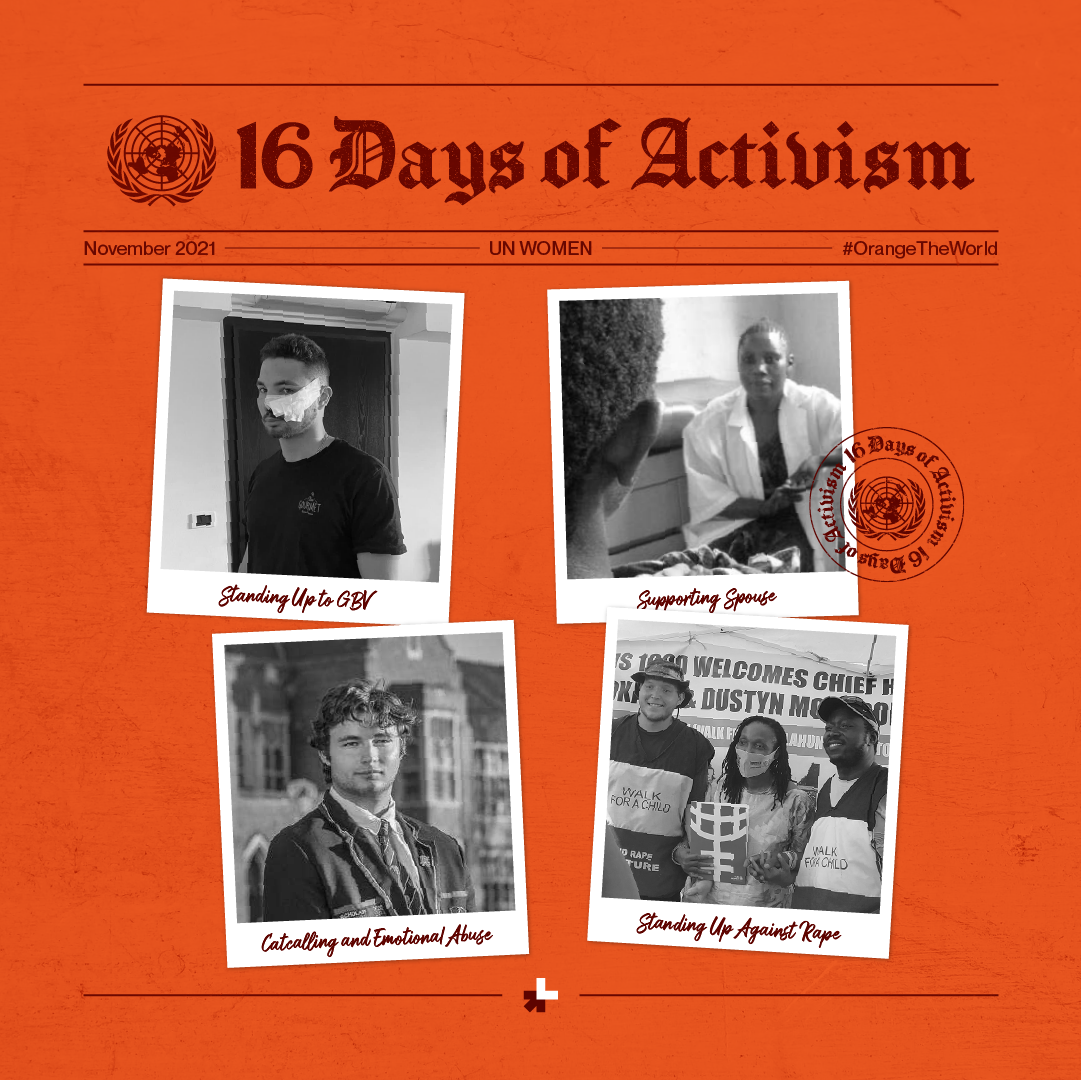 This year, the United Nations Secretary-General's global campaign to end violence against women is themed "Orange the World: END VIOLENCE AGAINST WOMEN NOW!" and will mobilize all UNITE networks, civil society and women's rights organizations, the UN system, the Action Coalition on Gender-Based Violence, government partners, schools, universities, private sector, sports clubs and associations and individuals to:
Advocate for inclusive, comprehensive, and long-term strategies, programmes and resources to prevent and eliminate VAWG in public and private spaces prioritizing the most marginalized women and girls.
Amplify the success stories demonstrating that VAWG is preventable by showcasing effective strategies and interventions to inspire all actors to scale up what works.
Promote the leadership of women and girls in their diversity and their meaningful participation in policy making and decision making from global to local levels.
Engage Generation Equality Forum commitment makers in your country or region to collaborate in the implementation of bold new commitments and to inspire further action to deliver progress on the Gender-Based Violence Action Coalition Blueprint

.
HeForShe is uniquely positioned to speak directly to men and boys in support of this movement. Specifically, the HeForShe channels will support the 16 Days of Activism campaign by focusing on the following main principles of Transformative and Multi-Sectoral approach as laid out in the concept note for engagement :
Multi-sectoral: Everyone in society has an important role to play in ending violence against women and girls and we all must work together across sectors to address the various aspects of violence against women and girls.
Transformative: Fostering crucial examination of gender roles, regimes and practices while seeking to create or strengthen equitable gender norms and dynamics for fundamental, lasting changes for women and girls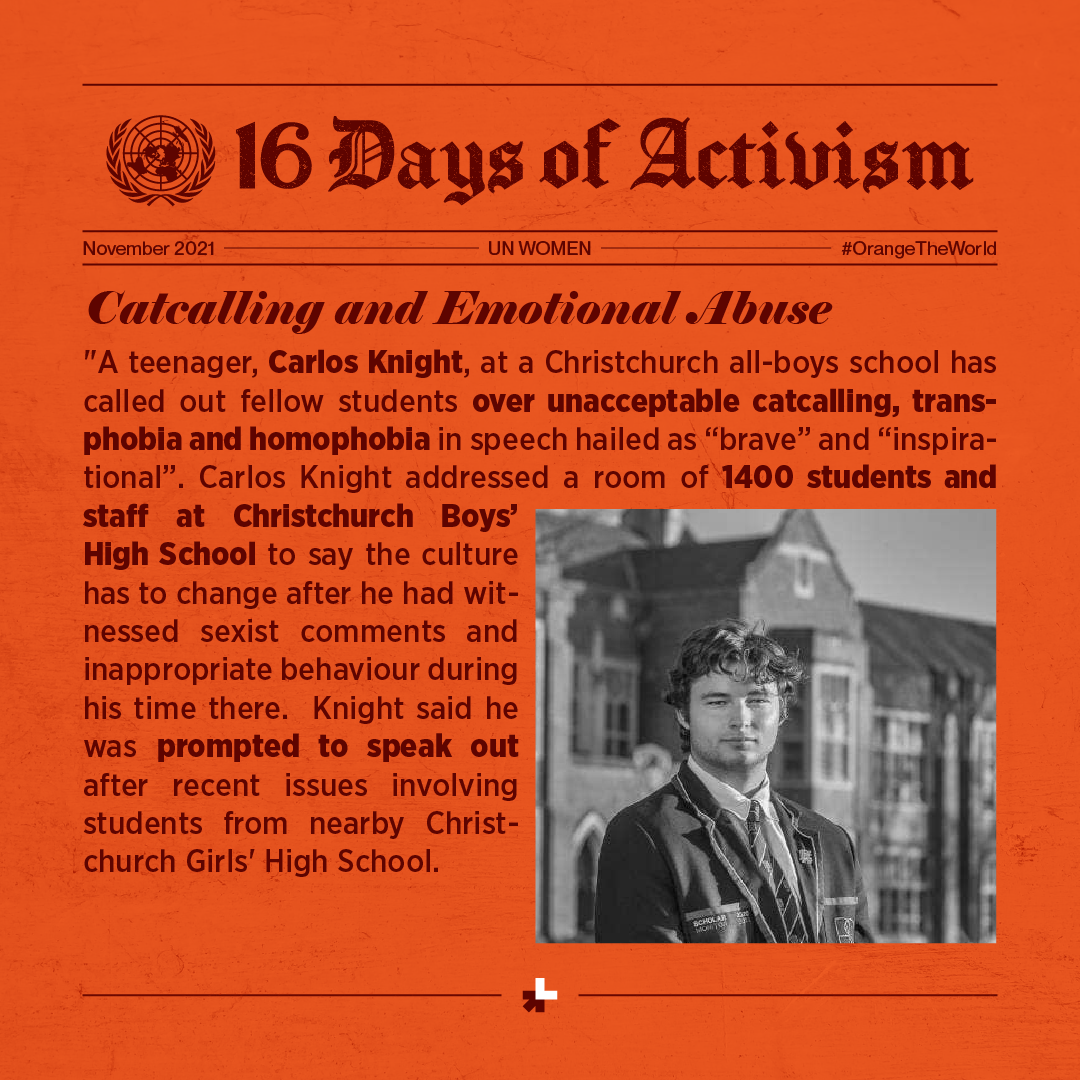 Campaign Approach:
HeForShe will use its platform speaking to men and boys to highlight Champions who are taking action in the fight against VAWG, spotlight success stories in allyship, and support the  UN Official Commemoration of the International Day for the Elimination of Violence against Women event through HeForShe Champion Vodafone participation.
These activities will include daily amplification from the HeForShe owned channels, as well as partner engagement demonstrating support and allyship in the mission of ending VAWG now between 25 November – 10 December 2021.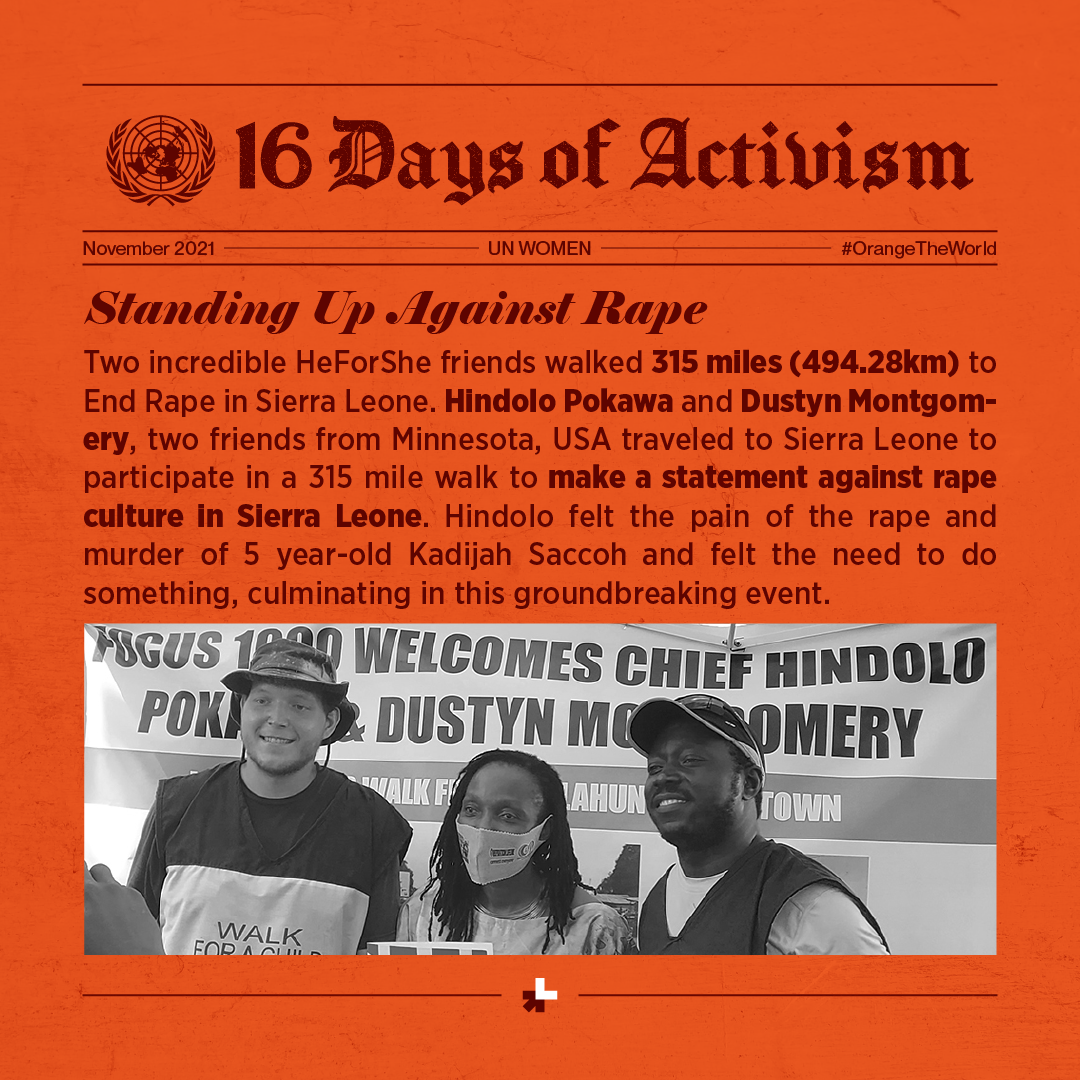 Partner activation:
The 16 Days of Activism campaign provides the following tactical opportunities for partners to engage and support HeForShe's involvement with the UN Secretary-General's campaign.
Post your support of the campaign by leveraging HeForShe and UN Women's social assets. Be sure to use #OrangetheWorld and #16Days when sharing.
'Orange' your brand social presence by incorporating the colour orange into your banner or profile picture. Assets and creative support available via the Trello board.